Sustainable Development Goal 13: Climate Action
At the end of 2015, 193 United Nations government leaders in New York approved the resolution "Transforming our world: the 2030 Sustainable Development Agenda". The Seventeen Sustainable Development Goals (SDGs) form the core of this resolution. Sustainable Development Goal 13 deals with urgent action to counter climate change and tackle its consequences.
For the first time in UN history, a comprehensive and coherent agreement has been reached on addressing major global challenges and committed all countries to the highest political level. Because of the universal nature of the goals, they apply to all UN Member States.
The Sustainable Development Goals 13 and 7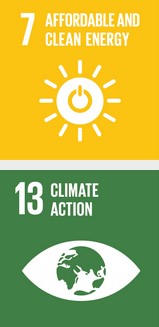 The Sustainable Development Goal 13 is about Climate Action. This goal is in close relation with Sustainable Development Goal 7. This goal number 7 is about ensuring access to affordable, reliable, sustainable and modern energy for all. This includes the reduction of energy-consumption, energy efficiency and renewable energy.
The less fossil fuels are consumed, the less emissions of the greenhouse gas CO2 are emited, the less impact we have on the climate. The climate or energy transition requires a shift from fossil fuels to renewable energy, decentralized generation, more efficient use of energy and reuse/recycling of raw materials. This is a big challenge, but certainly also a chance for all businesses.
As a SME business, getting started with the SDGs
Climate action means in concrete terms: insight into your carbon footprint, less energy consumption (and thus less CO2 emissions), transition to renewable energy sources and economical handling of raw materials. Are you familiar with the carbon footprint of your organization? You can calculate it for free with our carbon calculator. And then save energy and costs, which can be taken into account by following our 5-step roadmap towards a carbon neutral business>.
Important aspect of Climate Action will be the cost of CO2 emissions. From various organizations such as the Worldbank and many governments it is advocated that companies will be taxed with a price on carbon to reward clean and sustainable frontrunners for good behavior. The Dutch 'Klimaatplein.com' conducted a testcase with carbon pricing with three Small and Medium sized Enterprises (SMEs.) This CO2 testcase lead to insight and concrete action to reduce future CO2 costs.