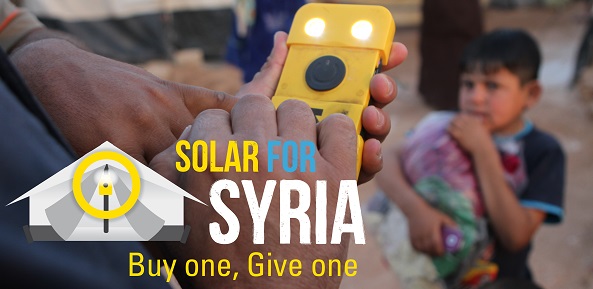 Door: Maurits Groen, 23 November 2013
---
Solar for Syria
The (human) crisis in Syria worsens every day. There are millions of Syrian refugees crossing the borders of Jordan, Iraq, Turkey and Lebanon. Sadly, this situation is expected to get worse before it gets better.
Light in the darkness
WakaWaka has partnered with the International Rescue Committee and the Dutch Refugee Organization to provide crisis aid to fleeing Syrian citizens. Over 25,000 WakaWaka Solar Powers have already been provided. This enables more than an estimated 100,000 refugees to safely see, study, move about, cook, read and gather after darkness, without the risk of tent fires due to the use of kerosene lights. The solar-powered devices also allow them to charge their phones and connect with other family members and loved ones caught in the horrors of the civil war.
Buy one, Give one
On december 13th we will launch a large-scale 'Buy One, Give One' campaign on www.SolarForSyria.org. A global audience will be able to purchase their own mobile super solar charger and light. For every item sold, one identical product will be provided to Syrian refugees. Based on our own experience, a 'buy one, do good' offer has a far bigger impact than straight- forward donations.
Get your organization involved!
Be the first to give your staff, clients or suppliers a social gift this Christmas that truly has a traceable impact on people who need it most. WakaWaka stands for social responsibility, sustainability and for disruptive ways to achieve the impossible. If any of these values resonate with your organization's core values, or if you wish to make a stand against violence in support of millions Syrian refugees, then order now and have your WakaWakas delivered well in time before Christmas. Reach us at: info@solarforsyria.org